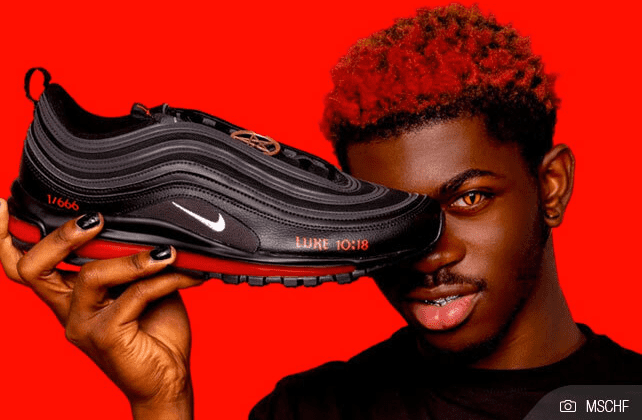 Nike's temporary restraining order against MSCHF, the company known for "creating some of the most absurd, cynical, and viral projects and products that have spread across the internet" including the recent Lil Nas X "Satan Shoes," has been upheld by New York U.S. District Court Judge Eric Komitee last Thursday.
The order immediately stops the shipment of any orders involving the controversial MSCHF Nike branded Air Max 97 "Satan Shoe."
The judge heard from Nike's lawyers as they submitted evidence that claimed "even sophisticated sneakerheads were confused" causing consumers to boycott the popular sneaker brand because people thought Nike was behind and supporting the devil shoe. The attorney said, "We have submitted numerous evidence that some consumers are saying they will never buy Nike shoes ever again."
Nike told CBS News, "We do not have a relationship with Lil Nas X or MSCHF. The Satan Shoes were produced without Nike's approval or authorization, and Nike is in no way connected with this project."
It was revealed to the court that all 665 sold-out "Satan" shoes had been shipped to their customers while the remaining 666th pair was scheduled to be given away to a fan through a Twitter giveaway. That has now been put on indefinite hold, according to an MSCHF statement.
Lawyers for MSCHF called the shoes art and referenced the "Jesus Shoes" their company also created that sold for $4,000. Those shoes contained holy water from the River Jordan and they argued that they didn't face a lawsuit then. MSCHF told CBS News, "Heresy only exists in relation to doctrine. Who is Nike to censor one but not the other?"
The Hollywood Reporter uploaded a copy of the Judge's written order and reported that an additional hearing will consider a "longer-lasting preliminary injunctive" that would ensure that no more "Satan Shoes" using the Nike shoe could be sold.
Lil Nas X posted on Twitter saying, "Sorry guys I'm legally not allowed to give the 666th pair away anymore because of the crying nerds on the internet."
The day the shoes went on sale, on Franklin Graham's Facebook page, he called the marketing endeavor dangerous and that the morals in our country have fallen fast. Then he followed up his comments by saying, "The Word of God says, 'And do not fear those who kill the body but cannot kill the soul. Rather fear him who can destroy both soul and body in hell' (Matthew 10:28). Hell is a real place, and so is the eternal torment of those who reject Jesus Christ as Lord and Savior."