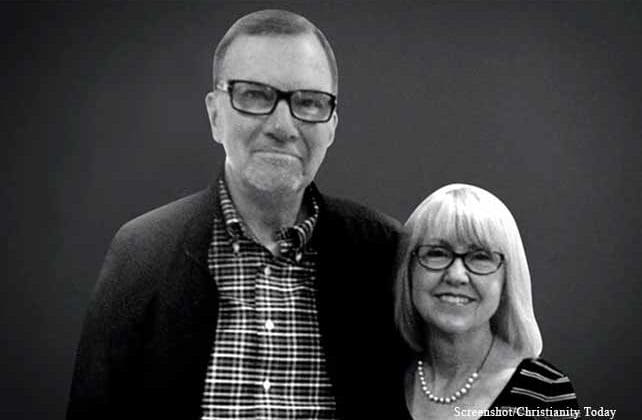 by Bob Smietana
(RNS) John Baker, co-founder of Celebrate Recovery, an evangelical support group that helps people with "hurts, hangups and habits," has died.
The ministry, started at Saddleback Church in the 1990s,  announced the news of his death Tuesday (Feb. 23) on social media.
"John Baker co-founder of Celebrate Recovery made his way Home early this morning," Celebrate Recovery national director Mac Owen wrote on the group's Facebook page.
"To say this took us by surprise would be an understatement," he wrote. "John touched more people with the healing power and grace of Jesus Christ than anyone else that I have ever known personally and one of those lives was mine."
Celebrate Recovery was founded by Baker and his wife, Cheryl, as a "Christ-centered 12-step group" at Saddleback Church in Orange County, California, one of the nation's largest congregations, in 1991. According to the ministry's website, more than 27,000 people, many from outside the congregation, have been through the program.
Kay Warren, wife of Saddleback pastor Rick Warren, posted a tribute to Baker on Twitter, calling him "a giant of a man" and a dear friend. She said he had helped millions find hope and a second chance in life.
"Thirty years ago John Baker turned the ruins of his life over to Jesus Christ and God transformed him from a driven businessman with an addiction to alcohol, a failing marriage, and alienated children to a Christ-follower with a passion to help others with their 'hurts, habits and hang ups' through the principles of recovery," she wrote.
"There is simply no way to put into words how I love John and will miss this kind, creative, brilliant and faithful man."
Celebrate Recovery was born out of Baker's personal struggles. He started drinking in college and by his 30s was a functional alcoholic. In his 40s, he joined an Alcoholics Anonymous group meeting at Saddleback, according to a 2009 profile of Baker in the Tulsa World.
The group helped him deal with his addiction but was not overtly Christian. Baker told Christianity Today magazine in 2016 that he wanted to create a program that would combine Christian teaching with the honesty and support structure of 12-step groups like AA. He outlined his ideas in a letter to Rick Warren, who gave him the go-ahead to start the ministry.
"In my men's small group I couldn't talk about my struggle, and at AA, I couldn't talk about my Savior," Baker said.
About 35,000 churches host Celebrate Recovery groups, according to the ministry's website. The program has also been used in prisons and other settings.