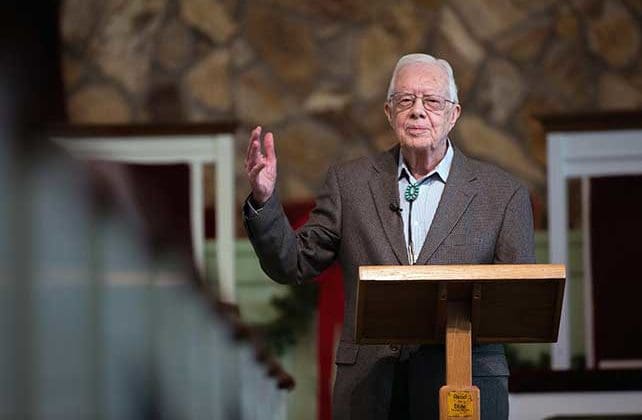 by Maina Mwaura
(RNS) Three years ago, when the pastor at Maranatha Baptist Church in Plains, Georgia, invited me to deliver the sermon at an upcoming revival service, he confirmed quickly that former President Jimmy Carter, who attends Maranatha, would be in the room. The pastor told me, though, not to let Carter's presence affect my sermon, because, he said, he's "just like everyone else."
I appreciated what my friend was saying, and he was right, but I also knew that Carter is not just like everyone else. For one thing, he is one of only 46 men who have held the title of U.S. president, a role some say is the hardest job in the world. Carter would later win the Nobel Prize for Peace and do other things that make him not just like everyone else, but I want to concentrate on his time as one of those 46.
Each president has borne on his shoulders the significant expectations and demands placed on him by just about every American citizen. If you think this overstates the case, please ask just about any American citizen what expectations they have for the president.
They have ideas about how he (or she, should it come to pass) should act and talk, what he should say and do and wear — never mind how he should work with Congress or what his foreign policy should be.
Given these expectations for our president, we must consider how we should pray for this person, since increased expectations should yield increased prayer.
The Bible is clear that we are to pray for our leaders no matter what our political preference may be. Paul's First Letter to Timothy makes clear that we are called to pray for our leaders. Preaching for Carter taught me a few things about how I want to pray for any president.
Before I preached at Maranatha, I reminded myself that the same God who lives inside of me also dwells inside of him. In a polarized culture, it can be easy to believe that God is only working on our behalf, but that just isn't true. God loves President Joe Biden just as much as he loves me. He is working on behalf of both of us as his children.
When praying for Biden, then, we can remind ourselves that the same God who cares for us also cares for him and also has the same desire for him to do well, just as he does me.
Shortly after speaking in front of Carter, I received a call telling me that I could interview him wearing my other hat, that of religion journalist. This began a debate between my wife and me on whether it would be unprofessional for me to bring along our then 5-year-old daughter. In the end, Zyan came along with me, and Carter and she hit it off well. It struck me, watching the former president talk to my daughter, that one of the hallmarks of a good leader is that he loves the people he leads.
Our prayer for President Biden should be that he loves every one of us, even those with whom he disagrees — even those with whom we disagree.
Carter is one of two former presidents I've interviewed. I've also interviewed our current vice president, Kamala Harris, two former vice presidents and a former second lady. I wouldn't be human if I didn't have different opinions about these very different people. But when interviewing them, my job is to understand how they fill their role and the nature of their office.
In my prayers, too, I should not let my own personal expectations define what I ask. Vice President Mike Pence told me that one of the best things he loves to hear people say is that they are praying for him, not that they agree with him or admire him.
My prayer for Biden should be that God has his way and not the way of my own political leanings.
Journalist Jonathan Alter has written a biography of Carter titled " His Very Best." I asked Alter to give me his take on Carter and what he learned from the former president regarding faith. Alter told me: "He loves everyone. He really wants people to emulate Jesus Christ." 
As believers, one of our own hallmarks is how we emulate Jesus. I'm praying daily that Biden, who is Catholic, emulates the teachings and passion of God.
If we ask God to guide Biden in these ways, we may not only get a good president, or the president that we want to see; we just may get a president who leads in the best interests of the people.
(Maina Mwaura is a writer and speaker. The views expressed in this commentary do not necessarily reflect those of Religion News Service.)