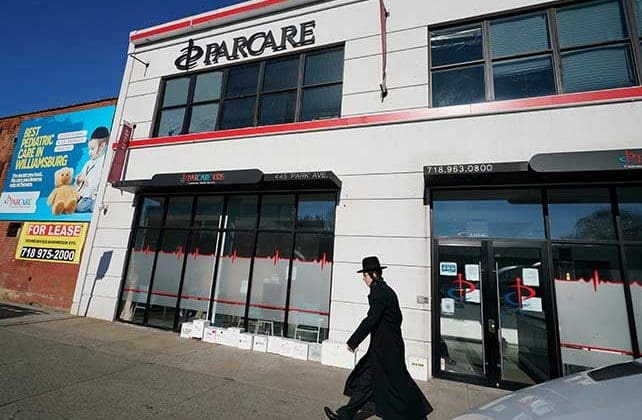 (RNS) Stories that bash New York's Haredi Jewish community are as popular as they have been common during the COVID-19 pandemic. They offer certain readers a chance to "justify" their pre-existing hostility toward these conservative Orthodox Jews, using a legitimate concern about public health.
So it is that ParCare Community Health Network has been in the news this week over accusations that the group of six clinics, which operate in religious enclaves of Brooklyn and upstate New York, illegally acquired COVID-19 vaccines and administered them to patients outside of state-approved guidelines.
ParCare denies the claims and has shared paperwork confirming that the doses of Moderna vaccines were shipped to them by the proper authorities, and they say they have returned all of their remaining vaccines.
Sadly, there would be nothing surprising about a Haredi institution flouting COVID-19 rules. Examples of the community circumventing public health rules abound in the pandemic: Schools and synagogues have been accused of operating illegally, and weddings and funerals attended by thousands of people have gone on despite restrictions on public gatherings.
That phenomenon is not limited to any single religious community. Members of almost every faith have engaged in similar violations. Christian ministers and Muslim imams have skirted the law, or worse, proudly proclaimed that their faith takes precedence over established public health norms. Their stories, too, are typically reported as "proof" of the dangers of fervent faith. What has gone wrong in these cases, however, has nothing to do with how devoutly these people practice their faith. The real moral hazard they've fallen into is building a faith identity or communal solidarity on otherness, victimhood or grievance.
When any community sees the rest of the world as a threat, its members can use that threat to justify illegal or unethical behavior, as long as the outsiders are the ones adversely affected. I don't mean to say that this faith community doesn't have legitimate, well-rooted grievances, historic or present, or that many other groups don't use victimhood or outside threats to great effect. There is almost no community that has not fallen prey to the moral hazard of pursuing victimhood.
But it almost always works to the detriment of others and ultimately to the community itself. These communities become focused on what has been done to them and, worse, what is owed to them. Their view of the world excludes the obligations that are also theirs to assume.
One way to measure if we are falling into this trap is to ask how we victimize those with whom we disagree. After all, victimization can be practiced by victims as well. I don't know the folks who operate ParCare, but I do know plenty of people in the Haredi community, not to mention plenty of people in other fervently religious communities. By and large, they are good and decent people. There is plenty about which we do not agree, but I don't know any of them who get up in the morning to pray for help and guidance to harm others. All too often, though, the fervently faithful — regardless of the theology or politics for which they reserve their fervor — do get up each day prepared to engage in an ongoing struggle with the forces — spiritual, political, cultural, etc. — that they experience as threatening them and their way of life. That's almost never a good or useful way to start one's day. Yes, there are real victims in this world, and raising awareness of them is a genuinely sacred act. But when any community depends on a victim's mindset as the value that defines them, things don't go well.