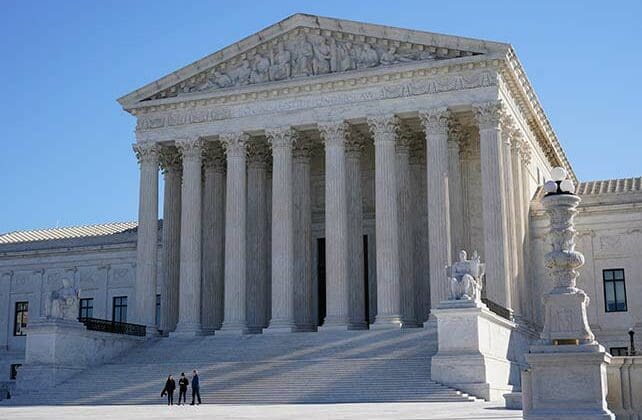 WASHINGTON (BP) – Southern Baptists at national, state and local levels commended the U.S. Supreme Court's ruling Thursday (March 24) in support of a condemned Texas inmate's request to have his pastor lay hands on and pray aloud for him when he receives a lethal injection.
In an 8-1 opinion, the high court said John Ramirez, who was convicted of a 2004 murder, "is likely to succeed in showing [the state's] policy substantially burdens his exercise of religion." Ramirez had sued Texas prison officials for refusing to permit Dana Moore, pastor of Second Baptist Church in Corpus Christi, to minister to him as requested when he is executed.
With only Associate Justice Clarence Thomas dissenting, the Supreme Court reversed a decision by the Fifth Circuit Court of Appeals in New Orleans and returned the case to federal court. That court should issue an injunction requiring the state to grant Ramirez's request if prison officials continue to refuse to allow Moore to touch and pray audibly for him at a rescheduled execution, the high court said in its opinion written by Chief Justice John Roberts.
"This is a significant affirmation of religious liberty," said Brent Leatherwood, acting president of the Southern Baptist Ethics & Religious Liberty Commission (ERLC). "The Supreme Court affirmed that religious freedom does not end at the execution chamber door.
"In the majority opinion, the court provided significant guidance about how this case should be handled moving forward," Leatherwood said in an ERLC news release. "The state of Texas should accommodate Mr. Ramirez's sincere requests based on his religious beliefs and allow Pastor Moore … to minister to Mr. Ramirez in his final solemn moments of life."
RELATED: Death Row Inmate Sues for Pastor's Touch During Execution
Tony Wolfe, associate executive director of the Southern Baptists of Texas Convention, called the decision "a win for religious liberty."
"Baptists have long confessed their conviction toward 'full freedom in the pursuit of spiritual ends,' noting that such religious liberty 'implies the right of free and unhindered access to God on the part of all men' (The Baptist Faith and Message 2000, the SBC's confession of faith)," he said in written remarks.
"Even those among us who are convicted of the most heinous of crimes are to be cared for and ministered to by religious officials at their request and upon the church's agreement," Wolfe said. "A pastor's presence and spiritual ministry at the moment of death [are] among the most solemn of ministerial occasions."
Moore told Baptist Press, "It is a blessing that if John does receive a date and if he is executed, that at least I'll be able to hold his hand [or otherwise touch him] and pray" with him.
It also is a blessing "from the precedent that we can practice our faith, even in the death chamber," he said. "[A]s a Baptist, that's important, to be able to practice our faith where and when we need to be allowed to do so. There's nothing compelling to keep us from doing that, even in the death chamber."
Though, Moore said, "the downside is this opens up the opportunity" for him to receive a new date for execution.
The Texas Department of Criminal Justice said in a written statement Thursday, "We respect the court's decision and will be making appropriate modifications to our practices to align with today's ruling."
The ERLC joined in a friend-of-the-court brief for the Supreme Court with the Christian Legal Society and six other faith or religious freedom organizations in support of Ramirez's free exercise of religion.
RELATED: Foes of Death Penalty Offer Spiritual Support at Executions
Ramirez, 37, was scheduled to receive the death penalty Sept. 8, but the Supreme Court granted a stay of the execution that night and heard oral arguments about the case in November. He filed an emergency application with the Supreme Court after a federal judge and the Fifth Circuit Court of Appeals both refused to stay the execution.
Moore said he believes Ramirez came to know the Lord in prison in "a genuine way" and underwent a change. He has ministered to Ramirez since 2016, when the prisoner was accepted as a member of Second Baptist Church. In 2008, Ramirez was convicted of the murder of convenience store clerk Pablo Castro, whom he stabbed 29 times during a robbery.
Texas failed to satisfy the requirements of the Religious Land Use and Institutionalized Persons Act (RLUIPA), Roberts said in the majority opinion. RLUIPA, a federal law enacted in 2000, prohibits the government from substantially burdening the free exercise of religion by a prisoner or, in land-use cases, by a person or institution. The government, however, can gain an exemption from the law if it can show it has a compelling interest and is using the "least restrictive means" to further that interest.
Texas "has not shown that it is likely to carry that burden," Roberts wrote. "Ramirez is likely to succeed on his RLUIPA claims because Texas's restrictions on religious touch and audible prayer in the execution chamber burden religious exercise and are not the least restrictive means of furthering the State's compelling interests."
When it approved RLUIPA, Congress decided "prisoners like Ramirez have a strong interest in avoiding substantial burdens on their religious exercise, even while confined," according to the chief justice's opinion. "Ramirez is likely to suffer irreparable harm in the absence of injunctive relief because he will be unable to engage in protected religious exercise in the final moments of his life."
A specific injunction like the one Ramirez "seeks – rather than a stay of execution – will be the proper form of equitable relief when a prisoner raises a RLUIPA claim in the execution context," Roberts wrote.
In his dissent in Ramirez v. Collier, Thomas said the "only relevant evidence … cuts strongly in favor of finding that Ramirez is insincere" in his belief that having Moore lay hands on him is part of his faith. Also, Ramirez failed to exhaust the administrative remedies available to him, Thomas said.
Ramirez said in his application to the Supreme Court he believes Moore's "laying on of hands on him as he dies, and the vocalization of prayers and Scripture, will assist his passing from life to death and will guide his path to the afterlife."
Second Baptist Church in Corpus Christi is affiliated with the Baptist General Convention of Texas, one of two Baptist conventions in the state, and the SBC, Moore said.
The Texas Department of Criminal Justice changed its policy on permitting clergy in the execution chamber after the Supreme Court stayed Patrick Murphy's execution in 2019 because his Buddhist spiritual advisor was not allowed to be present though Christian and Muslim chaplains were. The department barred all spiritual advisors from the execution chamber until it revised its policy in April 2021 to permit their presence. Under the current rules, chaplains are not permitted to pray or read Scripture while in the chamber, however.
The ERLC-endorsed brief argued the state violated RLUIPA. In addition to the ERLC, also signing onto the brief filed by Christian Legal Society were the Baptist Joint Committee for Religious Liberty, National Association of Evangelicals, Anglican Church in North America, General Conference of Seventh-day Adventists, Rutherford Institute and Queens (N.Y.) Federation of Churches.
Thomas was admitted to a Washington hospital March 18 with "flu-like symptoms," the Supreme Court's public information office reported March 20. It has issued no updates on his condition.
This article originally appeared at Baptist Press.