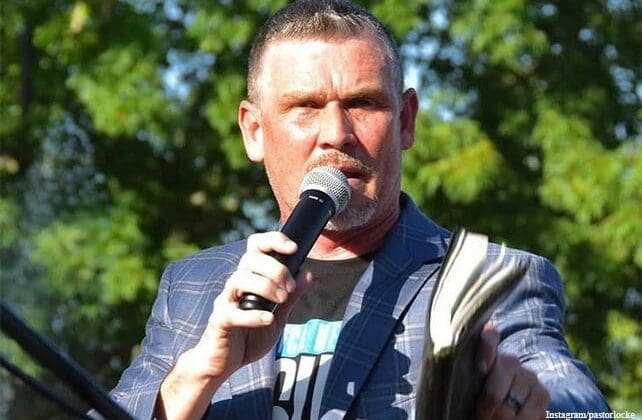 Controversial pastor Greg Locke of Global Vision Bible Church in Mount Juliet, Tennessee, made his thoughts clear about recent government murmurs of a second lockdown due to the uptick in COVID-19 resulting from the Delta variant.
Preaching a sermon out of Luke 24:13-32 titled "Holy Heartburn," Locke told his congregation on Sunday: "Here's what the left has told us every week, 'If you comply, if you compromise, you'll get in our good graces.' " Locke went on, "No! Because you will never comply enough. You will never compromise enough. You will never get in the good graces of godless people because all they want is compliance!"
Locke rejected the notion of shutting down the church, saying, "My hind leg if they think they gonna shut this church down. I'm gonna go and let you know that right now, in the name of God."
"They will be serving Frosties in hell before we shut this place down. Just because a buck-wild, demon-possessed government tells us to."
"If they go through round two and you start showing up with all these masks and all this nonsense, I'll ask you to leave," Locke said, as congregants stood and shouted in agreement. Locke repeated: "I will ask you to leave! I am not playing these Democrat games up in this church. If you want to social-distance, go to [another church], but don't come to this one. I'm done with it! I ain't playing these stupid games!
Related article: Pastor Greg Locke's Fiery Easter Sermon–'Take Them Stupid Masks Off'
Locke then called out other pastors who are already taking precautions because of the Delta variant. "Bunch of pastors talking about how much they want to see people healed," he said. "They're afraid to baptize because of a Delta variant. I'm sick of it!"
"My hind leg they gonna shut us down," Locke repeated, then warned listeners not to believe government officials who closed the nation the first time. "They know who's going to be a problem and they know who they can control…I'm going to be a 'problem' moving forward. I'm not giving into this mess."
"I'm not going to play their games."
The pastor extended an invitation for others to join the church's growing campus, saying, "So when all hell breaks loose and all these cowards start with this round-two business…we'll take ya."
CNN Cancelled Locke
Locke was scheduled to appear on CNN with host Chris Cuomo Tuesday night, but after Locke posted a video on Facebook letting Cuomo know he wasn't going to back down from what he said about masks, the network cancelled the interview "until further notice." Locke called the cancellation "bogus," but said he'd be ready for a future interview.
Known for his fiery rhetoric, Locke had called the Governor of New York Andrew Cuomo, who is Chris Cuomo's brother, "wicked-evil" and "demon-possessed," accusing him of killing old people in nursing homes using COVID-19 just hours before his scheduled appearance on Cuomo Prime Time.
Challenging anyone who thinks Locke's statement about masks was simply a rant or publicity stunt, he said attendants will have banners at the church this Sunday that read: "Our campus is a mask-free church. Either kindly remove them or sit in your car."
"If you come to our church and try to protest what I said by wearing a mask," Locke said, "we will escort you to the door. We're not playing. We're a place of faith, not a place of fear!"
Locke alleged that since his sermon on Sunday, the church's voicemail is being maxed out every 20 minutes with death threats and people saying "F- you, F- you, F- you, you wicked, low-down, sorry guy. I can't believe you would ask people to walk out of church for wearing a mask."
Greg Locke's entire message, which has been viewed over 3,000 times on YouTube and Facebook, can be watched below. The segment reported on in this article starts at 1:10:34.
Locke Made Similar Comments During Easter Service
During his Easter sermon this year, Locke told the "sheep" in the congregation to "take them stupid masks off!" He also called out preachers who he says stay silent about the truth of the Bible and don't utilize the platform God has given them.
Unvaccinated Pastor Fighting for Life Disagrees
Danny Reeves, the senior pastor of First Baptist Church in Corsicana, Texas, had to be admitted to the hospital after he couldn't breathe due to COVID-19 complications. Reeves was unvaccinated. The pastor tweeted on his seventh day in the hospital, "COVID pneumonia is no joke. I inadvertently underestimated it. Pls don't do the same. My healthy body has been ravaged."
"Modern medicine is the creation & blessing from God. I have always trusted it. We all take meds & go to the doctor when we're sick," Reeves added. He posted an update on July 26, 2021, urging others to get vaccinated. "Praise be 2 God! Thanks for all who have shared this journey! A HUGE thanks to the team @ Baylor hospital! Pls go get the vaccine! Pls recognize that U can use your freedom to get vaxxed. There's no freedom on a vent! If you've never been open to Jesus, it will be joy to share how Christ has changed my life! And just in case you want to know what the scene looks like…here it is!"
Franklin Graham Pushes Vaccination
During an interview with Axios on HBO, Reverend Franklin Graham encouraged pastors to inform their congregations where they could get the vaccine. "We are leaders in a community, and we have a responsibility to inform of the truth."
Calling modern-day medicine "pro-life," Graham told host Mike Allen, "I want people to know that COVID-19 can kill you, but we have a vaccine out there that could possibly save your life. If you wait, it can be too late."
Earlier this year Graham was questioned about previously saying, "I think if there were vaccines available in the time of Christ, Jesus would have made reference to them and used them." A few days later Graham clarified his statement, referencing the parable of the Good Samaritan. "Jesus Christ would advocate for people using vaccines and medicines to treat suffering and save lives."
"We also know that Jesus went from town to town healing 'every disease and sickness.' He came to save life—to offer us eternal life," Graham said. "Did Jesus need a vaccine Himself? Of course not. He is God."
Hillsong's Brian Houston Talks About Death of Unvaccinated Member
Hillsong recently experienced the loss of one of its members, Stephen Harmon, after he died from the COVID-19 virus.
Harmon chose not to get vaccinated and posted comments on social media such as: "When you can't trust the Bible cause it was written by man, but you trust the CDC/Fauci guidelines cause they were written by man. Makes total sense."
Related article: Brian Houston Calls Vaccine a 'Personal Decision' After Death of Unvaccinated Member
Even after Harmon was hospitalized, he said getting the vaccine was not an option for him.
In a statement Brian Houston said: "The death of Stephen Harmon was a sad day for those who knew him and called him a friend…While many of our staff, leadership and congregation have already received the COVID-19 vaccine, we recognize this is a personal decision for each individual to make with the counsel of medical professionals."