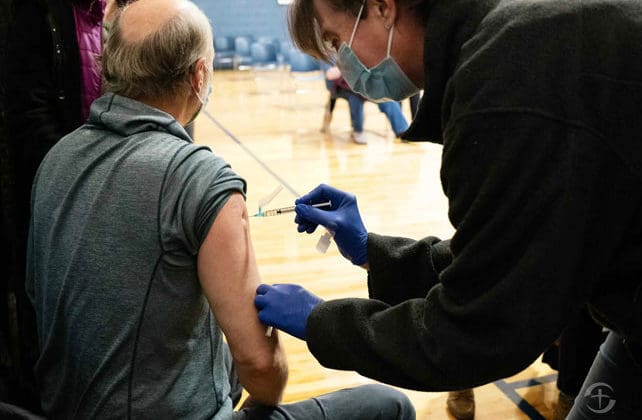 (RNS) As Facebook posts go, it was pretty straightforward.
" I have …been asked if Jesus were physically walking on earth now, would He be an advocate for vaccines," wrote Franklin Graham in a Facebook post.
Graham's answer? "I would have to say — yes, I think Jesus Christ would advocate for people using vaccines and medicines to treat suffering and save lives."
The blowback was fast, and it was furious.
"Sorry, Brother. While other vaccines have been beneficial, I seriously doubt this vaccine is one of them," was among the more tame responses.
"I'll take the Oil and Wine, but NOT Experimental Gene Therapy," wrote another.
"I just lost all respect for you spreading such garbage as saying Jesus would have taken that vaccine, that is a devilish lie!"
Graham, the son of the Rev. Billy Graham and the often-polarizing evangelist and missionary, doesn't typically part company with his white evangelical audience.
But the March 24 post revealed a deep divide among evangelicals, many of whom are suspicious of COVID-19 vaccines. The comments correspond to  a recent Pew Research poll that found only 54% of white evangelicals "definitely or probably" plan to get vaccinated — the lowest of any U.S. religious group.
Graham's post kicked up a lot of dust, drawing 20,000 comments and nearly 10,000 shares. It was the top-three highest-performing Facebook posts the day it was posted. Though his supporters ultimately rallied online, the vituperative anti-vaxxers initially overpowered them.
Graham, however, has remained nonplussed.
"I can't say anything without getting blowback from somebody," said Graham, founder and president of Samaritan's Purse, the globetrotting Christian humanitarian relief organization.
"The left will blow back; the right will blow back. The only way to make everybody happy is to keep your mouth shut. I'm not very good at that."
But it also revealed the way Graham navigates his evangelical bonafides. Graham is public enemy No. 1 for LGBTQ people trying to secure equal treatment. He is hated by Democrats for his clarion defense of Donald Trump and Republican politics.
But when it comes to medicine, count Graham an advocate.
Part of it is his own family history.
His mother's father, Dr. L. Nelson Bell, was a medical missionary to China.
"When the polio vaccine came out, he was asked to take charge of vaccinating the children in our small area of North Carolina," Graham recounted of his grandfather. "They put a blue vaccine in a sugar cube. You put it in your mouth and that was it."
Graham is now following in his footsteps.
In Boone, North Carolina, Samaritan's Purse has partnered with the Watauga County Health Department, a local pharmacy and a local church to vaccinate 3,500 people.
This past year Samaritan's Purse erected half a dozen mobile field hospitals across the world to treat people suffering from COVID-19. His staff at these tent hospitals work jointly with medical professionals from some of the best hospitals in the world.
And Graham has watched his own staff suffer from the coronavirus. His son, Edward, came down with COVID this past winter. So did Ken Isaacs, vice president of programs and government relations for Samaritan's Purse.
"I've seen first hand what COVID will do and believe me, you do not want it," Graham said. "It's not the cold. It has a dark, ugly side to it."
Graham said he will stop short of requiring all Samaritan's Purse employees to get the vaccine. But he's also clear that if his employees must travel, they may not be able to perform their jobs if they are not vaccinated, because some airlines won't allow them to fly.
Graham said he'll continue to advocate for vaccines and has been vaccinated himself — as has his family.
"Look how many people's lives (vaccines) have saved? Millions of lives," he said. "We've had smallpox, measles. The list goes on. I would encourage everyone to pray about it and consider it."