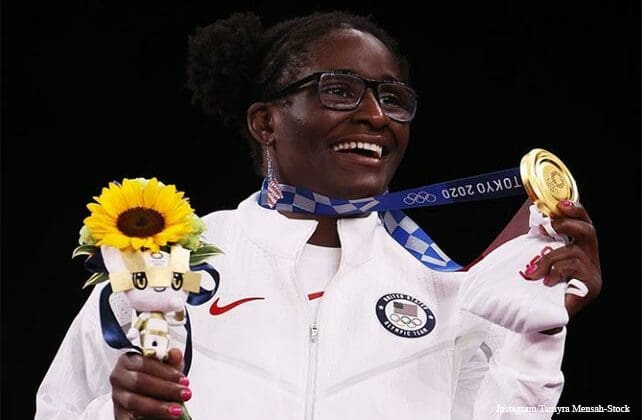 American Tamyra Mensah-Stock made history after becoming the first Black woman to win an Olympic Gold Medal for women's wrestling.
Mensah-Stock started her wrestling career in the 10th grade after her sister encouraged her to become a role model in a sport that needed it. "When I first started wrestling, I wanted to be an emblem," Mensah-Stock said in an interview following her win. "A light to younger women [to] show them that you can be silly, you can have fun and you can be strong." Throughout her career Mensah-Stock has been just that.
After graduating from Texas High School in Texarkana, Texas, where she was back-to-back high school girls champion in 2010 and 2011, Mensah-Stock attended Wayland Baptist University and became their 2014 and 2017 Nationals Champion.
"In your wildest imagination did you think you'd ever win an Olympic Gold Medal?" a recent interviewer asked. "YES! 100 percent, yes," Mensah-Stock said. "I knew I could do it. I knew it'd be hard. I prayed that I could do it."
Related article: Some Christians Labeled Simone Biles a 'Quitter,' 'Selfish,' 'Sociopath'—But Pastors Should Applaud Her
Mensah-Stock didn't just win, she dominated in all her matches. When asked if she was surprised by her results, Mensah-Stock gave all glory to God. "It's by the grace of God I'm able to even move my feet. I just leave it in His hands. I pray that all the practice that my coaches put me through pays off, and every single time it does."
Saying she believes all things are possible through God's strength, Mensah-Stock said, "It's so weird that there is no cap to to the limit that I can do, and I'm excited for what I have next."
With the American flag draped around her shoulders, Mensah-Stock made a heart sign with her hands. The gold medalist told everyone back home, "I love representing the U.S. I freaking love living there…I'm so happy I get to represent U.S.A."
Mensah-Stock's joy was infectious as she said she can't wait to get home to celebrate with her husband and her dogs.
You can watch the full interview here.