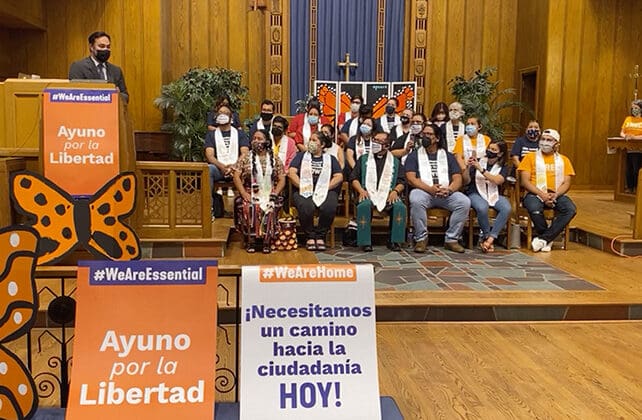 (RNS) For about two years, Rosa Gutierrez Lopez avoided deportation by taking sanctuary in Cedar Lane Unitarian Universalist Church, residing in the Bethesda, Maryland, church just nine miles from the White House.
Now, Gutierrez Lopez — who is living independently with her children after she was granted a stay of removal — is urging lawmakers to enact policies that offer a path to citizenship for undocumented immigrants like herself.
Lately, she's been back in church — but this time, at Lutheran Church of the Reformation in Washington, D.C., where she has joined clergy and others in a three-week fast to pressure Congress to include a pathway to citizenship for essential workers and undocumented immigrants as part of the infrastructure bill and budget reconciliation process.
For Gutierrez Lopez, an immigrant from El Salvador, this push is necessary as she seeks to reach legal status to remain with and care for her children. The youngest has Down syndrome.
This matter is also necessary in order to "liberate the children who are in detention centers," Gutierrez Lopez told Religion News Service.
Dubbed #WeAreEssential Faith Fast for Freedom, the nationwide fasting effort began June 9 and was led by the congregation-based organizing network Faith in Action in partnership with groups including CASA, the Congregation Action Network, FIRM Action and the Service Employees International Union.
Fasters rotated each week until Wednesday (June 30), when activists and clergy broke the fast with a gathering and interfaith blessing inside the sanctuary at Lutheran Church of the Reformation. More than 65 people fasted in D.C., and more than 100 fasted in solidarity across the country.
Rep. Joaquin Castro of Texas attended the gathering Wednesday and said "essential workers deserve citizenship," adding that the U.S. House of Representatives and the U.S. Senate need to pass legislation to make it so.
Castro spoke of farmworkers toiling in 100-degree weather in the Pacific Northwest, in the wake of news that one farmworker died Saturday at an Oregon work site during the heat wave.
"People literally sacrificing their bodies to make sure Americans have food to eat," Castro said. "It's been that way during the pandemic, but you know it's been that way for long before that. This is a long time coming and it's long overdue."
Castro said many members of Congress are aware of the fasters' efforts. "We're going to do everything that we can to pass this bill or get it done through reconciliation. Immigration reform should be in the reconciliation package."
Maria Chavalan Sut, who fasted for this campaign, was among the speakers on Wednesday. Chavalan Sut, an Indigenous Mayan woman, previously lived in sanctuary for nearly three years at Wesley Memorial United Methodist Church in Charlottesville, Virginia.
"I came to this country seeking refuge. … We've all been immigrants at one point of our existence," she said at the gathering.
With fists up in the air, the Rev. Alvin Herring, executive director of Faith in Action, led attendees in a chant: "What do we want? Citizenship! When do we want it? Now!"
Herring thanked the fasters and said their effort is "what faith looks like."
During the three-week campaign, fasters met with several Democratic lawmakers at the church, including Judy Chu, Mark Takano and Alex Padilla of California; Chuy Garcia of Chicago; Gerry Connolly of Virginia; Joe Neguse of Colorado; and Pramila Jayapal of Washington state.
Bishop Mario E. Dorsonville of the Archdiocese of Washington also met with fasters at the church on Monday, while Julian Castro, former U.S. secretary of housing and urban development, joined his brother Joaquin at the church last week.
Religious leaders from across the country and of different faiths fasted or otherwise showed support for the effort.
Hyattsville Mennonite Church pastor Cynthia Lapp fasted for five days in support of the campaign. Muslim and Christian leaders, including San Diego Bishop Robert W. McElroy, gathered in San Diego on Monday to pray and demand a pathway to citizenship for undocumented immigrants. A rabbinic delegation visited the Lutheran church on June 23 to hear testimonies from immigrants.
For Julio Hernandez, with Congregation Action Network, advocating for immigrant rights is part of the gospel.
"This is central to our faith, to be with the poor, to be with those fleeing danger, those who are hungry," Hernandez, director of family ministries at Christ Crossman United Methodist Church in Virginia, told RNS.
Hernandez, who is a U.S. citizen, has fasted twice for about three days as part of the effort. He said his mother, who is from El Salvador, was undocumented until a church helped her secure legal status.
Others around him haven't been as lucky. Hernandez recalled a young woman who wanted to kill herself after her parents told her she was undocumented. He's also aware of immigrant youth who don't qualify for protected status under the Deferred Action for Childhood Arrivals, or DACA, program.
"I want families like mine to have the same opportunities I had," said Hernandez.