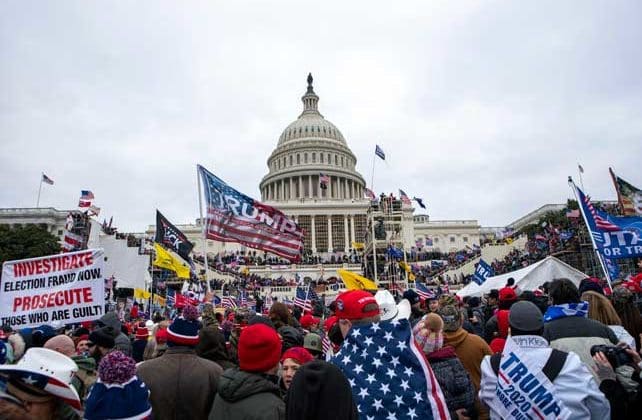 (RNS) Faith groups, immigrant rights activists and Democratic organizations issued a statement on Wednesday night (Jan. 6) calling for President Donald Trump's impeachment, removal and prosecution after a mob of his supporters violently occupied the U.S. Capitol.
"Every moment that he remains in office is a severe danger to our country," the statement read.
The hourslong occupation began after Trump repeated unfounded claims of election fraud to demonstrators he'd invited to Washington. Many then surged to the Capitol, pushing through barriers and climbing the building, after Trump incited them to go there as lawmakers debated the electoral votes.
The rampage led to the deaths of four people, including a woman who was shot by the U.S. Capitol Police and three others who died in "medical emergencies," according to  The Associated Press. Law enforcement and Trump supporters deployed chemical irritants during the  occupation before it was cleared Wednesday evening, police said.
Hours later, Congress returned to the building and officially confirmed Joe Biden's presidential election victory.
Among the faith groups pushing for Trump's impeachment are: Faith for Black Lives, Clergy and Laity United for Economic Justice, Black Lives of Unitarian Universalism, Movement in Faith and Transform Network.
Other organizations include RAICES, Progressive Democrats of America, Presente.org and DemCast USA.
In the statement, the groups also said members of Congress who "joined Trump in inciting (Wednesday's) violent coup attempt based on baseless, provable lies must be held accountable through censure, expulsion, or other means."
Other religious groups have also issued their own statements calling for Trump's removal.
Mormon Women for Ethical Government on Jan. 7 said Trump has failed to protect and defend the U.S. Congress and has "undermined faith in our elections."
"Though President Trump's term is nearly over, a failure to apply constitutionally available consequences to his historically egregious acts would set a precedent for future administrations of both parties that any presidential act is beyond accountability," Mormon Women for Ethical Government said in a statement. "It would permanently weaken our governing system, and we call on our elected and sworn leaders to act."
The National Council of Jewish Women in a Jan. 7 statement said Trump "has proven he is not fit to uphold our laws."
"If President Trump remains in office, we cannot trust that he will not attempt to once again overthrow the results of the election, engage in mass voter suppression, and incite more violence," the statement read.
"It is time for him to resign or be removed from office before he can cause any more damage."
The Associated Press contributed to this report.