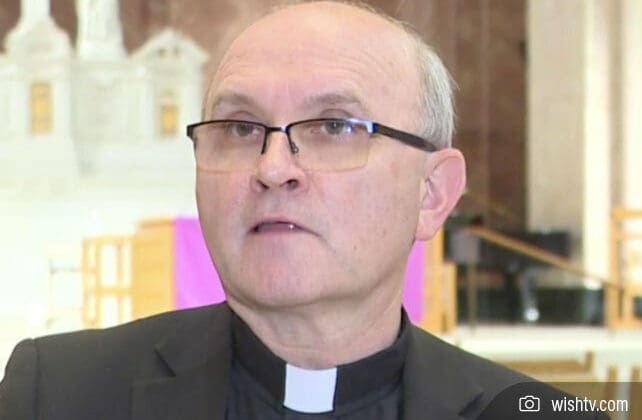 Rev. Vince Lampert, a Catholic priest from Indiana, says the pandemic is the cause for increased exorcisms.
In the United States, there are more than 125 priests who are appointed to the exorcism ministry Rev. Lampert is a part of. When he started 15 years ago, he was one of only 12.
Apprenticing in Rome under a Franciscan Priest, Rev. Lampert witnessed 40 exorcisms, and has seen levitations, foaming at the mouth, eyes rolling to the back of one's head, people speaking other languages unknown to an individual, people slithering around like a snake on the ground, and individuals possessing superhuman strength.
He was taught not to focus on the forces he is battling against, but rather the power that he has at his disposal. "It's not me, I don't have any special powers or abilities…if we are relying on me we are all in trouble," he said, "but if we are relying on the power and the authority of Jesus Christ He has given to His church, that's the right sentiment to have."
As the exorcist for the Roman Catholic Archdiocese of Indianapolis, when asked if there's anything that scares him Rev. Lampert says, "No, not when it comes to demonic. I don't lose sleep over this."
In the report from Indianapolis' WISHTV.COM8, reporter Dan Klein said there are four types of demonic activity the Catholic church recognizes: obsessions, vexations, possessions, and infestations.
Obsessions are mental attacks that include irrational obsessive thoughts which can lead to suicidal ideations. Vexations are physical attacks that are actual aggression, physical, or psychological brought on by demons. Possessions are where Satan or demons take over a person's body without their consent like which is depicted in the Hollywood movie "The Exorcist." Infestations are when demons affect houses, objects, or animals.
Rev. Lampert says he deals with only one case of demonic possession a year, but he is involved with thousands of cases of infestations per year.
"A lot of those programs are true," Rev. Lampert said, referring to television shows that revolve around people hunting ghosts. He says he has no interest in those shows, though, because he witnesses the activity in reality.
He receives an average of 10-12 calls a day from all over the world regarding demonic activity; that used to be 5-6 calls a day. Rev. Lampert blames isolation and says, "That tells me when people are isolated and dealing with mental health issues that the number of calls has really escalated."
"I should be the last one to believe someone is dealing with the demonic," he says. And he explains that his first step after receiving a call for help is to put them in touch with their local priest or pastor so they can provide continual care. He then requires a psychiatric evaluation from a trained professional to eliminate any mental or physical illness before classifying it demonic activity.
As an ambassador for the church, he says, "Evil is nothing to fear. If a person truly has faith, there's nothing to fear. If you're a person of faith and you're living out your relationship with God. If you're praying, the devil is already on the run. We don't have to do anything extraordinary to fight the devil."