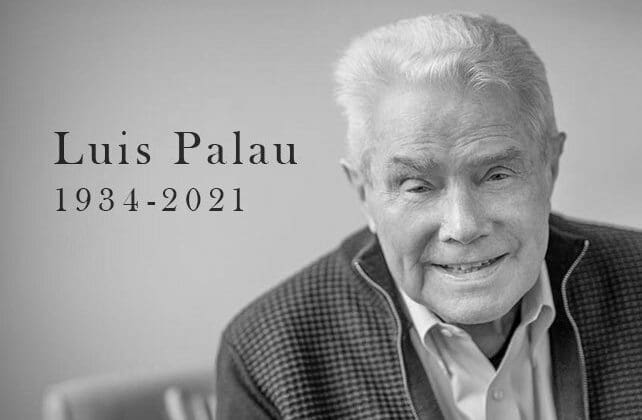 Evangelist Luis Palau died in the early morning on Thursday March 11, 2021, after a long battle with lung cancer. He was 86 years old. His family said, "This is hard news, but Luis is experiencing the beauty of the Lord face to face."
Palau was recently moved to hospice care at the end of February after taking a turn for the worse at the beginning of the year that required a two-week hospitalization due to lung and heart issues.
In a ChurchLeaders podcast, Palau told his listeners, "In my heart, I always wanted to preach." And he expressed to leaders, "It's my greatest passion to say to pastors, 'You were called by God Himself to be His spokesman.' "
An email from his family that was sent out to Luis Palau Association supporters said the memorial service will be a "small, private service here in Portland that will be streamed online to honor Dad's life and the Lord."
The memorial website www.luispalau.org was created as a place for people to remember Palau's life and also provide an area to leave comments.
In 2018, the great evangelist who is known as the Billy Graham of Latin America said in an interview "I know that the Lord is with me by the Holy Spirit indwelling. I'm ready, I know it sounds crazy to say, 'I can't wait to go to heaven' now; it's a reality for me.' "
Leaders Remember Palau and Encourage Others to Pray for His Family
"I am so saddened to hear of the passing of international evangelist Luis Palau. He was a beloved friend whom God used to reach millions of people with the gospel message, and I will miss him dearly. Over the years, I was blessed to hear countless stories of salvation from Luis as he brought our listeners up to date regarding his crusades and ministry efforts. His passion for sharing Jesus Christ around the world was immeasurable. As a result of Luis' obedience to the Great Commission, there will be innumerable more people in heaven. Shirley and I send our prayers to Luis' wife, Pat, his sons Kevin, Keith, Andrew, and Stephen, and their families." – A statement issued by James C. Dobson, Ph.D.
"When I think of how to describe Luis Palau, the first thing that comes to mind is his joy. His radiant smile, his enthusiasm, his energy came from a deep love for Jesus and a passion for sharing grace and truth with anyone who would listen. Although Luis would not desire to glorify himself, we celebrate his faithfulness: because of his obedience over a lifetime, more than 1 billion people around the world have heard the Gospel. Luis has received the victor's crown, the 'Well done, good and faithful servant' from his Savior. Though he is rejoicing in heaven, he will be sorely missed here. His friendship and mentorship meant more to me than words can adequately express. My prayers are with the Palau family in this difficult time." – A statement issued by the President of the National Hispanic Christian Leadership Conference Rev. Samuel Rodriguez.
"In an age of movie superheroes, Luis Palau was and is a real-life hero of the faith. Luis preached the gospel of Jesus Christ to millions and was a father of the faith to thousands of Christian leaders around the world. It was my great honor to be with Luis on a number of occasions including those times of preparation for his Reno Festival in 2004 and his Sacramento Festival in 2012. I never had an experience with Luis that was not full of the love of Jesus Christ, a passion to reach the world with the good news of God's love, and an unfailing concern for his family and ministry. We celebrate Luis's life and pray for the comfort and encouragement of his family." – A statement issued by the President of William Jessup University John Jackson.
"Luis Palau was the Apostle Paul to the Spanish-speaking world. He was a leader whom God used him to usher in the great revival that swept South and Central America, and that was just the beginning! Today, we lost a giant in Christian history." – Rev. Johnnie Moore, president of The Congress of Christian Leaders
"Luis Palau has just graduated to heaven. What a powerhouse he was! As an evangelist, he preached the gospel across the globe to more than 25 million people in 72 countries. Luis lived what he preached. He once said, 'When you face weariness, carelessness, and confusion, don't pray for an easier life. Pray instead to be a stronger man or woman of God.' After his battle with cancer, Luis entered into his eternal reward. Please pray for his wife, Pat, and his sons Andrew, Kevin, Keith, and their families." – A statement issued by the Pastor of Calvary Church Skip Heitzig.
The email sent to supporters can be read below:
It is with a mixture of sadness and joy that we share with you that Dad passed away early this morning. He died suddenly and very peacefully, just as he had hoped. Mom and the family are doing well. It's too early for details on a memorial service but we plan to have a small, private service here in Portland that will be streamed online to honor Dad's life and the Lord. We'll be sure to share details soon.
We also have just launched a memorial website at www.luispalau.org. It's a great place for people to reflect on Dad's life and leave comments. We will also be livestreaming the memorial service from this website. Please share it with friends and family. This is hard news, but Luis is experiencing the beauty of the Lord face to face. Love to you from the family. We'll share more news and updates in the days ahead.
Serving the Lord together, Kevin, Andrew, Keith, and Steve Palau