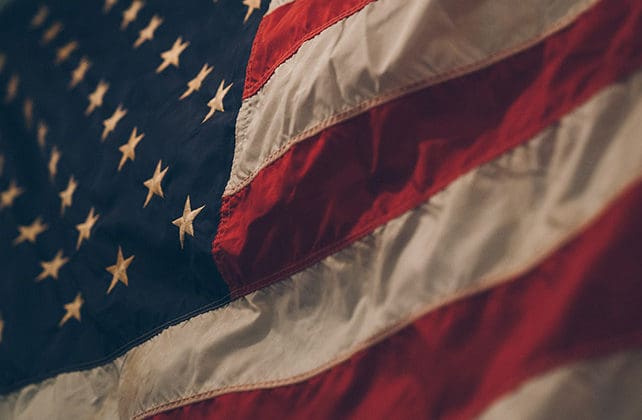 WASHINGTON (BP) The Southern Baptist Convention's ethics entity expressed hope a new congressional proposal is an indication of the start of a focused attempt to reform the immigration system.
The Ethics & Religious Liberty Commission (ERLC) and other evangelical organizations voiced encouragement at the Feb. 8 introduction of the Dignity Act by first-term Rep. Maria Salazar, R-Fla. The bill is designed to put an end to illegal immigration, to offer a dignified solution to undocumented immigrants living in the United States and to build up the American workforce, Salazar said.
In a Feb. 10 news release from the Evangelical Immigration Table (EIT), Brent Leatherwood, the ERLC's acting president, and other Christian leaders conveyed their hope for the legislation.
Immigration reform "is too important to be sidelined by partisan politics," Leatherwood said. He is hopeful Salazar's bill "signals the beginning of a concentrated effort to reform our broken immigration system."
"For too long, immigration reform and border security have been pitted against one another," Leatherwood said. "That shouldn't be the case. [Salazar's] proposal provides a framework that encompasses both of those perspectives and, more importantly, starts from the position of affirming the inherent dignity and worth of each and every individual."
Shirley Hoogstra, president of the Council for Christian Colleges & Universities, said she prays the introduction of the Dignity Act "will serve as a catalyst for the bipartisan negotiations necessary to finally resolve these challenges."
Walter Kim, president of the National Association of Evangelicals, said Salazar's proposal provides "hope to millions of our immigrant neighbors who wish to earn legal immigration status and continue living and working in the United States. We encourage other members of Congress in both parties to engage in serious negotiations toward a legislative package that can win bipartisan support."
Among provisions in the Dignity Act, according to a summary from Salazar's office, are:
The completion of border barrier construction, the use of high-quality technology and addition of at least 3,000 border agents.
A mandatory, national e-verify system to prevent the hiring of illegal workers.
Immediate legal status and a streamlined path to citizenship for Dreamers, undocumented immigrants brought across the border as children.
A 10-year Dignity Program for undocumented immigrants to earn legal status that requires they pay $10,000 in restitution during the 10 years and pass a criminal background check.
An American Worker Fund supported by restitution fees paid by undocumented immigrants in the 10-year program and used to retrain workers.
In introducing her bill, Salazar said, "Our broken immigration system is fracturing America – economically, morally, socially, and politically. It's threatening the American Dream and our very way of life. While we are a nation of laws, we are also a nation of second chances."
For about 15 years, the ERLC has advocated for reform of an immigration system that has resulted in an estimated 11 million undocumented immigrants living in the United States, but congressional efforts to pass such change have failed. It has continued to back reform as a leading member of EIT since the coalition's founding in 2012.
In 2011 and 2018, messengers to the SBC's annual meeting adopted resolutions on immigration reform that called for securing the border and establishing "a just and compassionate path to legal status," with restitutionary measures, for undocumented immigrants already in the United States.
EIT, a coalition of evangelical denominations and organizations, said it was encouraged by Salazar's bill, though it acknowledged it is concerned about some provisions it declined to name. Her legislation includes provisions, according to EIT, that are consistent with the coalition's "Evangelical Statement of Principles for Immigration Reform." That document, EIT said, urges a bipartisan solution that:
"Respects the God-given dignity of every person;
"Protects the unity of the immediate family;
"Respects the rule of law;
"Guarantees secure national borders;
"Ensures fairness to taxpayers;
"Establishes a path toward legal status and/or citizenship for those who quality and who wish to become permanent residents."
EIT also said an immigration reform bill proposed last year by President Biden shares some common elements with Salazar's legislation.
This article originally appeared at Baptist Press.