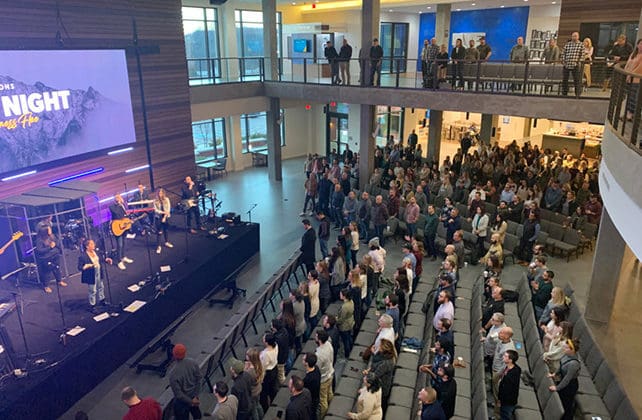 NASHVILLE (RNS) The company owned by Christian financial guru and radio host Dave Ramsey is no longer one of the best places to work in America, according to Inc. magazine.
The national business publication dropped Franklin, Tennessee-based Ramsey Solutions from its 2020 "Best Workplaces" list after the company was sued by a former employee, Caitlin O'Conner, for discrimination. O'Connor claims she was fired from Ramsey Solutions after applying for family leave because she was pregnant.
Her lawsuit claims Ramsey Solutions "discriminates against employees who do not strictly adhere to Ramsey's interpretation of 'Judeo-Christian' values for non-work related behavior."
In court documents, Ramsey Solutions said O'Connor, who is not married, was fired for having premarital sex, which violated the company's "righteous living" policy.
"There is no dispute that Plaintiff was aware of this rule and terminated for violating it," Ramsey's lawyer said in a March filing. The company also said that, since 2016, it has disciplined eight other employees, both men and women, for having premarital sex.
After learning of the lawsuit, Inc. dropped Ramsey Solutions from the "Best Workplaces" list.
"Ramsey has the right to manage its business in accordance with its values, and the court system will determine the merits of the lawsuit," Inc. assistant editor Sophie Downes wrote in announcing the decision. "Upon learning about the company's 'righteous living' policy and how it is applied, we believe that it is incompatible with our standards of organizational excellence and have made the editorial decision to remove the company from our 2020 Best Workplaces list."
About 3,000 companies applied to be included on Inc.'s annual Best Workplaces list. The list seeks to recognize companies where people love to work, one that sets the standard for excellence in company," according to Inc.
Ramsey Solutions did not reply to a request for comment. The company, which employs about 900 people, has received millions in tax breaks for expanding its headquarters and promising to create hundreds of new jobs.
Dave Ramsey and other leaders have told employees the company relies on being named to the "Best Workplaces" list as a recruiting tool, according to a recording of a staff meeting discussing the surveys, obtained by Religion News Service. Leaders also warned employees that if they can't answer surveys that put the company in a positive light, they should leave.
Ramsey, whose Financial Peace University materials are used by thousands of churches, has been at the center of controversy over the past year for his comments about the COVID-19 pandemic. From the beginning, he has downplayed the threat of the coronavirus and called mask-wearing a sign of fear and required all employees to work in the office. During a staff meeting last year, Ramsey also threatened to fire an employee who filed an OSHA complaint against the company's response to COVID-19. The company held a large-scale, mostly maskless, in-person Christmas party.
Ramsey recently filmed a video in support of a law that would label mask mandates as discriminatory. His company is also suing a Florida resort, claiming the hotel's enforcement of mask bans cost Ramsey millions in revenue when they had to cancel a conference.
The financial guru has long defended his company's moral code, saying it is needed to create a godly work atmosphere.
Ramsey Solutions recently cut ties with Chris Hogan, a high-profile employee who was seen as a possible successor to Ramsey. In a video announcement posted in March, Hogan said he had "done some things personally that are not in line with Ramsey Solutions" and had left the company.
"This week, new information came to light that Chris Hogan has recently done some things personally that are not in line with Ramsey Solutions' core values," the company said in a statement after Hogan left. "As a result of his current actions and behavior, Chris Hogan is no longer a team member at Ramsey or a Ramsey Personality. "
Before his firing, Ramsey and other company leaders had long known of allegations of misconduct against Hogan. In an interview with RNS, Hogan's ex-wife said she came to Ramsey leadership in November 2018 with allegations Chris had been unfaithful to her.
Hogan has since admitted having at least two affairs, including one with a coworker at Ramsey Solutions.
At a May 2019 staff meeting, Ramsey told his employees, "If you are worrying about our integrity in leadership and are we covering up for (Hogan) because he is a big brand, the answer is no. No."
But the situation drew criticism that the company's moral codes were selectively enforced.
Hogan left the company not long after O'Connor's attorney had requested copies of his personal file as part of the discovery for the lawsuit.