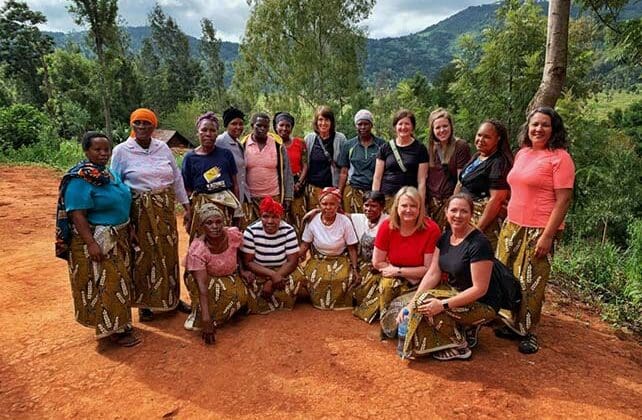 NASHVILLE (BP) – Not too long ago it was normal for Grand Avenue Baptist Church in Fort Smith, Ark., to take 20-25 mission trips in a year. Perhaps a half-dozen of those would be reached by van, but most required a flight.
COVID-19 changed all that.
"I had many trips ready to go in 2020, but COVID pretty much shut us down," said Scott Ward, missions minister. "There were three scheduled for that spring break, and I was planning on taking another team to South Asia. About a week before, we decided to cancel."
Instead, the church took a few trips in 2020 and only one in 2021, to Wyoming. Spring break missions returns next month with college students assisting some of GABC's church plants in Columbus, Ohio. In May a group will travel to Central Asia, with another returning to the Wind River Indian Reservation near Riverton, Wyo., in July.
In addition, GABC teams will go to Tanzania in June, Panama in July and South Asia in August, Ward said.
The pandemic was an interruption. But as it did for others in literally every part of society, it forced churches like Grand Avenue to take a closer look at how to adjust. A hiccup doesn't have to become a hinderance.
One church's way of being part of the Great Commission doesn't have to mirror others', said Kevin Prewett, manager of field relations for the International Mission Board. For congregations who scaled back on travel the last two years or those wanting to re-establish a missions culture, it always helps to look ahead.
"For churches that have taken a few trips previously, the pathway is shorter," Prewett said, "but there are necessary steps for setting up a healthy missions strategy and plan."
RELATED: 90% Increase in Children Orphaned by COVID-19 in 6-Month Period, Study Says
It begins with a church taking stock of how God has blessed it, to discover the ways it has been equipped "both corporately and individually," Prewett said. "That will help them determine where and how to engage in the overall mission."
Grand Avenue, for instance, had to adjust for a season on its approach.
"COVID certainly interrupted our mission trips," Ward said. "But it benefited us in that it forced us to really work hard on our local mission efforts."
For churches who feel they may not have the resources for numerous trips abroad, Prewett pointed out other ways to support the Great Commission.
"They need to consider what training they might need, what areas of the globe or people groups they want to prayerfully consider and how they want to engage in the mission," he said. "The question is much broader than simply 'Should we go on a short-term mission trip or not?' Looking at prayer opportunities, ways to support field work financially and how would a short-term trip lead to a longer-term partnership are other issues to consider."
Prewett added that the IMB's Church Mobilization Team can assist churches with those questions through info@imb.org or by calling (800) 999-3113.
Vaccination considerations have also become the norm for planning mission trips, largely depending on your destination.
Cross Church in Springdale, Ark., sent up to 600 people on 30-40 mission trips annually before COVID grounded those efforts in 2020. Missions pastor Doug Sarver spent that year coordinating future trips and maintaining communication with global partners. He also studied how an individual's vaccination status and a country's COVID-19 mandates could factor into plans.
"It depends on the individual's medical status, their comfort level with international travel and their comfort level to exposure," he said.
It began with identifying countries where COVID-related requirements had been communicated for entry and finding participants willing to adhere to those requirements. Last September the IMB updated its own policies in order for missionaries to meet COVID vaccination requirements in other countries.
Personally, Sarver viewed vaccination requirements as a call by those local governments that, if he wanted to be on-site to participate in missions, he had no choice but to follow. So, he received the required vaccinations in order to go.
RELATED: Franklin Graham Doesn't Believe COVID-19 Vaccine Passport Microchip Is the Mark of the Beast
"If I'm not vaccinated, then I can't follow God's call for me to go to those places," he said. "I chose to submit and follow God. I've trusted Him for my health long before COVID vaccinations."
Cross Church does not mandate medical decisions to members or staff. Many upcoming mission trip participants, he said, were already vaccinated when trips such as one to London had been determined. According to the most recent requirements, those participants must complete a passenger locator form within three days of arrival, but don't need to quarantine or take any additional COVID-19 travel tests. The unvaccinated must be tested two days before travel, book and pay for another test after arrival and complete the passenger locator form.
Seven teams comprising 140 people will depart from Cross Church between now and April, Sarver said. Four will be in the United States with two going to London and one to Malawi.
A positive test once you arrive in that country can also affect the cost, as additional quarantine days before leaving means additional nights in a hotel and additional meals to pay for.
Prewett recommends planning a year before an international trip. COVID-19 has been the biggest variable to contend with, of course, as well as how the destination country is encountering it.
"It is a constant state of shifting rules," he said, "and not all countries enforce their rules evenly across the board."
It's also tough to overstate COVID's impact on the airline industry. Airlines are dealing with a pilot shortage spurred by both the pandemic and its recovery, which led many to be laid off, accept early retirement or decide to leave the vocation altogether.
"When the airlines rapidly increased flight schedules last summer to almost pre-pandemic levels, staffing levels never caught up,"' Prewett said. "It has made for hectic operational tempos as they struggle to staff their planned flight schedules. It causes a lot of changes to flight schedules and itineraries."
The IMB has adjusted as well, currently only booking travel for personnel two to four weeks prior to departure.
RELATED: Al Mohler Claims COVID-19 Vaccine Mandate Is 'A Threat to Religious Liberty'
Russia's recent invasion of Ukraine has also complicated travel.
"Right now European carriers cannot transit Russian airspace and Russian carriers cannot transit European airspace," Prewett said. "That adds layers of complexity to flight routes and times for connections between Europe and Asia."
Oil prices have also skyrocketed, he added. "This will inevitably affect the prices of airline tickets, especially on flights flown by European airlines."
Summer 2022 may see churches ease back toward pre-pandemic levels of mission travel, hoping 2023 continues that trend. At this point, though, it's crucial to get a sense of the terrain and do what's necessary.
"I plan on ramping things up in the fall, hoping that COVID concerns die down by then," Ward said. "Our church will not mandate a vaccine for travel, but we do require travelers to purchase COVID insurance, which is an add-on to the travel insurance we always purchase."
Pre-COVID, Ward's goal was to get 25 percent or more of Grand Avenue's average weekly attendance to go on a mission trip. "In normal years, we usually hit that number," he said.
This article originally appeared at Baptist Press.