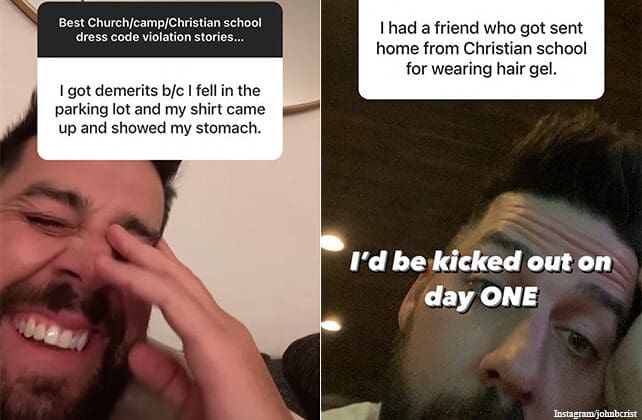 Christian funny man John Crist recently asked his 1.1 million Instagram followers to share their best church, church camp, or Christian school dress code violations.
"I always got in trouble for my haircuts," Crist said. "Those were against the rules. [I also got in trouble for] not having my shirt tucked in."
The comedian later posted as a response to the multitude of "violations" coming in: "Ha!!! I'm DYING at these!! [laughing emoji] Unfortunately these are all 100% true."
One follower shared how they once got in trouble for wearing a "Van Halen 'Running With The Devil' shirt to Wednesday night and played in the praise band." In response, Crist joked, "Okay, I mean that makes sense that you'd get in trouble for that."
Modesty in Christian circles isn't anything new, especially for those who grew up in a conservative church. However, modesty culture has become increasingly controversial. For example, Christian artist Matthew West was heavily criticized this past June when he released a video title "Modest is Hottest." West's video was meant to be satire, poking fun at himself for being an "over-protective dad." Critics of the song called it a damaging message that shames and blames women for men's lust.
Related article: Lecrae Posts Video of Pastor Telling Women It's a Sin to Wear Pants; It Goes Viral
One critic posted on Facebook, "I am disgusted by this song and this 'artist,' and feel horrible for his daughters to have to grow up being told that what they wear defines them and that what they wear is responsible for the actions of the males around them. This is the type of man who claims a women [sic] was 'asking' to be raped because of what she was wearing."
Although Crist used his question for comedic purposes, the joke serves as social commentary on the restrictive dress codes that many church leaders have relied upon.
Crist's Instagram Followers Respond
Read the some of the responses Crist received below:
Shadow cleavage. Not actual cleavage. They could see a shadow where cleavage is.
Got sent home from VBS for sweatpants that said "Pink" on the booty — circa '02. [PINK is a brand from the Victoria's Secret clothing line.]
Shimmery lotion. Draws too much attention to the body…obviously. [Shimmer lotion creates a sparkly layer on one's skin.]
Inappropriate clothing = forced to wear a choir robe for the day.
This isn't a joke. We legit had to wear jeans in the ocean. Do you know how dangerous!
Soffe shorts with Panama City Beach printed on the butt [are] not allowed at VBS. [Soffe shorts are similar to cheerleading shorts, also worn by dancers and gymnasts.]
PINK was a no go for guys.
I had to read a modesty book twice because I had a 'heart issue' and 'showed cleavage.'
A tie is an arrow pointing straight to hell. Men could wear them at our church.
Bend over and touch your toes. If anything shows, it's got to go.
Not putting on a skirt before leaving the dorm…when the fire alarm is going off late at night.
No body glitter, shiny lip gloss, or colorful eye shadow — it would distract boys.
Girl got booted from youth group with a shirt that said Plan B is my Plan A. She was 12 and clueless.
Someone printed off Facebook pictures of me in a dress that was too short.
[I got] yelled at for not having Band-Aids on our nipples during winter.
Cross-body purse strap accentuates the chest.
I had a friend who got sent home from Christian school for wearing hair gel.
We could not wear "prostitute" nail polish colors like red.
I was wearing more than two hair clips in my hair…which was somehow a "MTV hairstyle."
Our pastor told my sister at camp to take off her anklet because it was distracting for the boys.
Couldn't wear animal print pants = causing men to stumble.
If our jeans had holes or rips [in them] we would have to put duct tape over them. LOL *no skin allowed*
Took a Barbie with a strapless dress on to school. [I was] forced to cover her with a paper shawl.
As a female adult I wore long pants to a downtown church and had to sit in the cry room.
Boys weren't allowed to wear shorts so one day we all wore skirts. Got that ruled changed!
[My] mom got a ticket at Bob Jones University for wearing shorts, she was the UPS driver…
School rule that if a golf ball couldn't fall down the leg of your pants they were too tight.
Christian school in the 80's. Wore "Air Supply" shirt. Told my air supply came from God. Sent home.
In a church mission trip to KY, we were not allowed to wear a watch because time didn't matter.
My elbows showed. Minister's wife came and told me I was a stumbling block for the boys.
Had to wear socks even with sandals because showing our feet and ankles was too much skin.
My friend was spotted in Florida in shorts and was suspended.
A youth pastor's wife marked a girl's leg with a sharpie at camp. If she saw the line, it was [too] short.
I wore a Harley Davidson bandana and got in trouble for "gang memorabilia" — I was 8.
I got yelled at from across the cafeteria in front of everyone for wearing frayed denim capris.
Watch Crist's Instagram highlight here.