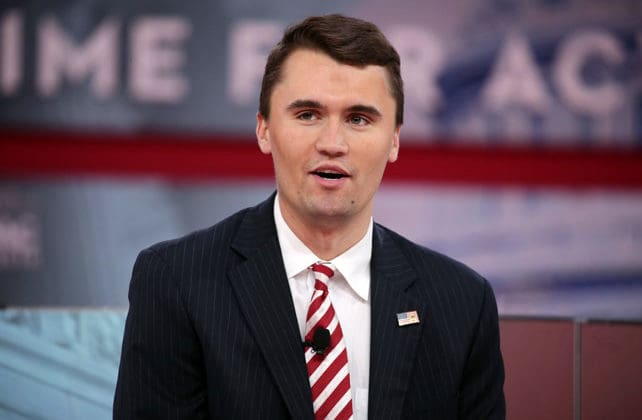 by Jack Jenkins
(RNS) Turning Point USA, an advocacy organization founded by conservative Christian activist Charlie Kirk, has unveiled a new education initiative that promises an "America-first education" for educators and homeschool parents.
According to the group's website, the new curricula is intended to counter unspecified educational materials that supposedly teach "America is fundamentally evil, that government is always the answer, and that the free-enterprise system is immoral."
The website said the initiative, called Turning Point Academy, will release materials this fall for K-12 students that focus on "our founding principles, the Constitution, and economics" and will "provide their children and students with a reliable, honest, and quality America-first education."
"Turning Point Academy will also train thousands of educators nationwide on how to use Turning Point Academy curricula in their classroom and how they can adopt new lessons to help transform the way our young people perceive freedom, government, and free enterprise," the website reads.
The language used in the announcement echoed that of the 1776 Commission, an effort former President Donald Trump created by executive order in November 2020 to advance "patriotic education." Trump framed the advisory commission as a counter to the The New York Times Magazine's 1619 Project, which highlights the long history of slavery and racism in the United States, but which Trump insisted teaches students to "hate their own country."
Kirk was a member of the 18-member commission, which reportedly did not include any professional historians but consisted of conservative activists, politicians and intellectuals.
The commission produced a widely criticized report on January 18, but was dissolved two days later just hours after Joe Biden was inaugurated as president.
Turning Point USA representatives did not respond to repeated requests from Religion News Service for details about the new curricula.
Homeschooling, which has skyrocketed during the pandemic, has long been popular among conservatives — especially evangelical Protestants.
Kirk recently left the Falkirk Center, an organization he co-founded at Liberty University, an evangelical Christian school. Touted as a think tank, the center — which Kirk created with former Liberty President Jerry Falwell, Jr. — created $50,000 worth of pro-Trump digital advertisements during the 2020 election and brought on prominent Trump supporters such as former presidential aid Sebastian Gorka and conservative Christian commentator Eric Metaxas as fellows.
Kirk now reportedly plans to create Turning Point Faith, which will recruit religious leaders to participate in various political actions.