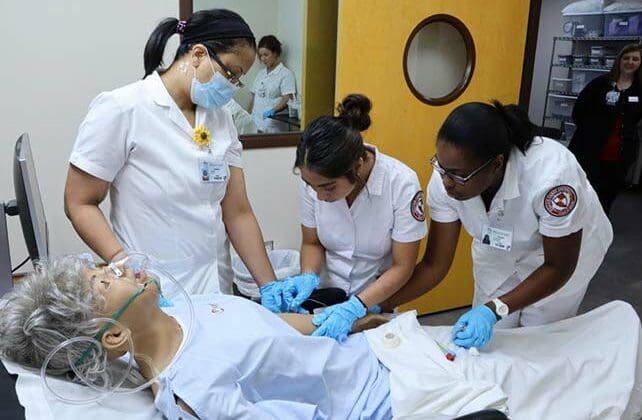 HATTIESBURG, Miss. (BP) – Addressing the shortage of nurses that has worsened in the U.S. since the COVID-19 pandemic is a mission and ministry of William Carey University (WCU), a Southern Baptist-supported school based in Mississippi.
For Janet Williams, WCU vice president for health programs, healthcare and ministry are naturally complementary.
"Who better to witness than the nurse who's with you as you're critically ill? Who better to help make sure that they take your hand and pray with you?" Williams posed to Baptist Press. "It's in everything we do and everything we teach."
In the two states WCU's three campuses are located, Mississippi and Louisiana, there are 13.88 nurses per 1,000 people and 11.6 nurses per 1,000 people, respectively, according to a 2021 study from the University of St. Augustine for Health Sciences. To address the shortage, an additional 1.2 million nurses will be needed by 2030, the study said, a number more difficult to reach as nurses retire or leave the field for more prosperous careers, and nursing programs turn away students because of the lack of faculty.
RELATED: Christian Nurses Arrested Under Blasphemy Law in Pakistan
"It's bad enough now," Williams said, "that if we don't do something about the supply of nurses out there, that you're going to start seeing hospitals close because of it. We're already seeing hospitals that are shutting beds down. That's a big deal.
"The key to the nursing shortage is supply has to equal demand. There's no doubt that that's the only way to fix it," Williams said. "And the way we're doing it, we're also trying to find other pots of students that would like to be nurses but who had never really considered it because of the finances or because of opportunities that were not there."
WCU created a new scholarship this summer for students with bachelor's degrees in other fields to attract them to nursing, and operates an advanced placement program to enable licenses practical nurses (LPNs) to become registered nurses (RNs) and thereby earn larger salaries.
A year ago, WCU opened a new 67,000-square-foot facility to house the William K. Ray College of Health Sciences on its Hattiesburg campus, allowing the university to increase its annual admission of incoming nursing students from 75 to 124, Williams said. She puts annual nursing enrollment, encompassing pre-nursing through doctoral programs, at 525-550, including campuses in Hattiesburg, on the Mississippi Gulf Coast and in Baton Rouge, La. In WCU's last graduating class, nurses numbered 72, but that number is expected to grow with the new facility, Williams said.
WCU increases its nursing outreach through memorandum of understanding agreements with seven of Mississippi's 15 junior colleges, helping students transition to WCU health programs, transfer credits and provide academic advisors and support. And the university places as much emphasis on the quality of education received as the number of students enrolled.
RELATED: Pope Promotes Vatican Nurse Credited With Saving His Life
In February, WCU's nursing graduates earned a 100 percent pass rate on the National Council Licensure Examination, which Williams said is the only bachelor's degree nursing program in the state to earn the distinction.
"Healthcare in Mississippi has always been ranked so low. We look at it and we say, if somebody's going to change healthcare in Mississippi, it has to be us," Williams said. "We're the ones that have to do it. We have to educate the students in a way that they'll be excellent practitioners."
Williams expresses WCU's commitment to its mission as a Baptist institution, evidenced in its community mission requirement in the nursing curriculum. It's part of WCU's emphasis on care.
"There's a certain level of empathy you have to have as a nurse. You have to feel the need. We call it 'called to care.' If you come to nursing at William Carey you're called to care," she said. "You have to care about your patients. It has to make a difference to you that you have helped someone.
"Mission is one part of that, working with missions and doing the community service and all of those types of things. And it goes along very well with the mission of William Carey, the fact that William Carey is a Baptist university and … we try to be very much appropriate in our approach."
Students complete missions at local facilities and in foreign countries.
RELATED: Measuring COVID-19's Effect: Southern Baptists Report 19% Attendance Drop
"Because we also have a medical school, we can join together with our medical school and do a medical mission where you have physicians and nurses, and then physician students and nursing students go," Williams said. "And that's huge. To take that to a country that needs the healthcare so desperately, you can see an awful lot of patients and do an awful lot of good that way."
Williams expresses appreciation for the support of Southern Baptists, and encourages prayer and contributions to endowed scholarships.
"Southern Baptist churches are doing a good thing for us. The Mississippi Baptist Convention (Board) gives us funding. We thank them very much for that."
This article originally appeared at Baptist Press.