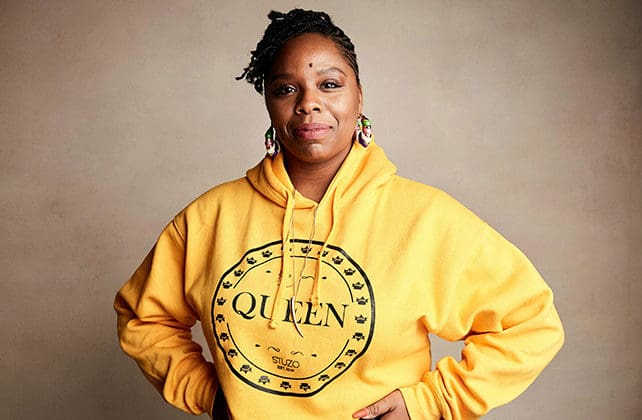 LOS ANGELES (RNS) Black Lives Matter co-founder Patrisse Cullors is encouraging people to share photos, artwork, a prayer or meditation for loved ones lost to COVID-19, even as the virus continues to spread and fill up hospital beds across Los Angeles County.
It's part of a new project dubbed #PrayforLA — developed by an artist collective Cullors co-founded with Alexandre Dorriz and Noé Olivas — that aims to amplify and honor people dying of COVID-19 in L.A. County. The collective transformed a former Crenshaw Dairy Mart in Inglewood into a gallery and educational space that serves as both their headquarters and event space.
Cullors is asking those who participate to use the #PrayforLA hashtag along with the photos and artwork they share on social media. She announced the initiative through an Instagram video on Saturday (Jan. 2), saying she was rattled by the people around her who have been impacted by or died of the coronavirus.
As of Jan. 3, a total of 818,639 COVID-19 cases had been reported, and 10,773 people had died from the coronavirus in L.A. County. More than 12,400 new cases were reported on Jan. 3.
"Why aren't we making sure that Black and brown communities aren't dying from this disease in the way that we are?" Cullors said. "I'm calling for people around the world to pray for LA. We need you to pray to your gods and your goddesses."
"We need you to show up," she added.
As Latino and Black residents in L.A. County are disproportionately impacted by COVID-19, Cullors said the county and state government should do more to help its residents by cancelling rent and providing them with money during the pandemic. She criticized a healthcare system that she said "wasn't adequate before COVID and we are all clear that it's not adequate now."
The Crenshaw Dairy Mart team, according to its website, aims to engage the community through three pillars: ancestry, abolition and healing.
In an interview with Artsy, Cullors said the gallery space "is an extension of our spiritual and our political values, and what we value is human life, each other, our ancestors, and the ending of caging human beings. You'll see that as our three pillars: healing, ancestry, and abolition. Those are the things that we value and that's going to be at the center of our work."
Cullors, who has described Black Lives Matter as a spiritual movement, said the collective is looking to open up the parking lot for people to "come and pray in your native language, pray in your religion." 
The drive-in event would be inclusive of people of all faiths, including atheists who can offer up a meditation, she said. A date for such a gathering has not been disclosed, but Cullors envisioned people bringing candles, prayer beads, mats and any altar items. She said more needs to be done to memorialize this moment and the "people who are being sacrificed because of this disease."
"We need all faiths to unite right now," Cullors said. "We are in a crisis that really is about bringing in our ancestors' spirit, something bigger than us."
"Let's pray for our community," she said.