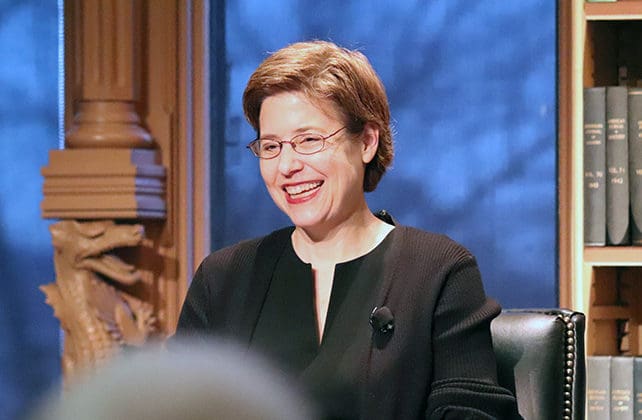 by Thomas Reese
(RNS) In restoring the White House Office of Faith-Based and Neighborhood Partnerships on Sunday (Feb. 14), President Joe Biden sent a Valentine's message to Catholic bishops and other faith leaders, signaling his openness to a dialogue with them on important public policy issues.
This attitude will not be popular with many in the president's base, and it may also be a fool's errand if the bishops remain as intransigent as they've shown themselves to be in the early going.
The faith-based office, founded under President George W. Bush, evolved over the past two decades, but it became moribund under President Donald Trump, who preferred to talk only with evangelical leaders who supported him.
Since personnel is policy, it is also important whom Biden picked to lead the office. Heading the office will be Melissa Rogers, an experienced professional who led the office at the end of the Obama administration. As a result, she knows the issues and how government works. No time will be wasted learning the job. She will hit the ground running, already knowing the players and their concerns.
Rogers will also have a seat on the White House Domestic Policy Council as senior director for faith and public policy, giving her a voice when administration policies are developed.
Rogers is a Baptist who thinks like Thomas Aquinas. She is a brilliant lawyer who knows the ins and outs of issues of church and state and religious liberty. Most recently, she has been at the Brookings Institution, where she worked with E.J. Dionne on issues of public policy and religious freedom.
Most importantly, Rogers is an extraordinary human being who respects and listens to all sides of a dispute. When you talk with her, you know you are in the presence of a truly good person.
If you think I am ready to canonize her, remember in the Catholic Church, candidates need two miracles before they can be canonized, and Rogers will need to be a miracle worker to be successful in her job.
Rogers is caught in the middle of a battlefield between two armies that distrust and even hate each other. On one side are feminists and LGBTQ activists fighting for their rights; on the other are conservative religious leaders fighting for their religious liberty. Each side firmly believes in the righteousness of its cause. These are true believers for whom compromise is a dirty word. They prefer shouting matches to dialogue.
Missteps during the Obama administration caused the Catholic bishops and other conservative religious leaders to think that the administration was out to get them. The Trump administration's disregard for the concerns of feminists and LGBTQ people, meanwhile, led those groups to see Trump's religious allies as enemies. To make matters worse, these groups each have organizations whose financing and political influence depend on stoking the controversies.
Rogers' first miracle will be to get these opposing groups to lower the volume and actually listen and talk with each other, even if only through her as a mediator. Do they recognize that it is better to resolve these disputes in a way that is permanent, or do they want to stay on the roller coaster of policy changes depending on which party controls the White House?
Without the cooperation of all the bishops, failure is assured. We cannot have a repeat of what happened during the Obama administration when New York Cardinal Timothy Dolan, then president of the U.S. bishops' conference, signaled his willingness to work with the White House, only to be forced to reverse himself by more intransigent bishops. If the bishops refuse to work with Rogers, they will confirm their opponents' view that they are partisan Republicans.
Rogers will need to map out the common ground between the two sides, for example, both sides could probably agree to oppose discrimination in housing and employment. In areas of disagreement, under her guidance, opponents may find solutions that are acceptable to both sides, or at least compromises that could bring about stability and peace.
The list of more strongly disputed topics includes the Affordable Care Act contraceptive mandate, employment discrimination in religious institutions, medical practices in faith-based hospitals, government funding of abortion and birth control, flowers for gay weddings, bathrooms and sports for transgender persons, etc.
If Rogers can resolve even a few of these issues, it will be miraculous. She may even end up being martyred by the very people she wants to save. Liberals may prefer to quickly push through their policies, while conservatives may prefer to be obstructionist while waiting for a Republican administration.
In that case, Rogers will become another bloodied victim of ideologues and partisans. History is full of saints who were persecuted by enemies of the church, or by church leaders themselves.
The president has made clear that the scope of the faith-based office is broader than settling religious differences, which makes Rogers' job even more burdensome.
The Feb. 14 White House press release states that the "Office's initial work will include collaborating with civil society to: address the COVID-19 pandemic and boost economic recovery; combat systemic racism; increase opportunity and mobility for historically disadvantaged communities; and strengthen pluralism. The office will also support agency partnerships that advance the United States Government's diplomatic, international development, and humanitarian work around the world."
Most Americans would consider these issues more important than fights between Catholic bishops and Democratic administrations. In fact, this is an agenda that the U.S. bishops can readily embrace, as long as they do not let their disagreements with the administration on other issues get in the way.
Rogers has taken on a huge task, but saints have always fought the odds.