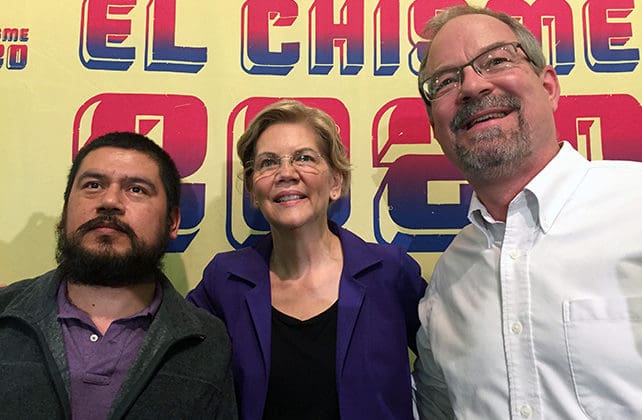 (RNS) An undocumented immigrant who had taken refuge in a Raleigh, North Carolina, church for more than three years will now be allowed to leave without the danger of being deported.
Eliseo Jimenez, a 42-year-old itinerant laborer who worked in the state's tobacco fields and later in construction laying floors, has been living at Umstead Park United Church of Christ since Oct. 9, 2017.
This week his lawyer, Nardine Guirguis, said Immigration and Customs Enforcement assured her he would not be subject to deportation while his case is being reviewed by the Board of Immigration Appeals.
"Eliseo is free!!!" wrote the Rev. Doug Long, the pastor of Umstead Park UCC, to his congregation in an email Tuesday evening (March 23). " … offer your thanks in whatever way you can to the new administration in Washington that has allowed for our common humanity to be more fully recognized."
Since the inauguration of President Joe Biden, about a dozen undocumented immigrants who had been living in churches across the country have been granted temporary relief from deportation by ICE.
A total of 71 undocumented immigrants fled to churches in the wake of former President Donald Trump's harsh immigration crackdown. About 22 remain, according to Church World Service, which has tracked the publicly known cases. They have formed what is sometimes called the "New Sanctuary movement."
"Congregations and Sanctuary leaders across the country are seeing huge victories as people safely leave the house of worship to go home, " said Noel Andersen, grassroots coordinator for Church World Service. "We continue to call on ICE, (Department of Homeland Security) and the Biden administration to immediately grant relief from deportation for all people in sanctuary."
Many of those who fled to churches lived in converted Sunday school classrooms or, in Jimenez's case, a youth activity room that the church turned into a bedroom.
Churches — along with schools and hospitals — are considered "sensitive locations" where federal immigration enforcement officers are unlikely to arrest, search or interview people under most circumstances.
In January and February, four others living in churches in Ohio, Missouri and North Carolina announced publicly they were leaving sanctuary. (Others left without any publicity.) They are the beneficiaries of new Biden administration guidelines that restrain ICE from arresting and deporting undocumented immigrants who do not pose a threat to public safety.
Two of Jimenez's four children had been living with him at the Raleigh church since school was canceled due to COVID-19 last March. His partner, the children's mother, lives and works in Greensboro, about 70 miles west of Raleigh.
Jimenez first came to the United States from Mexico to escape an abusive father when he was 17.
For years he reported yearly to an ICE office in Charlotte and received a work permit. But in 2017, the federal agency told him it would not extend his permit and ordered him to leave the country.
Ten years earlier, Jimenez was pulled over for a broken taillight and arrested under a program that allowed sheriff's deputies to identify undocumented immigrants and hand them over to ICE. While in detention he was forced to sign his own deportation order. His lawyer maintains this was a violation of his Fourth Amendment due-process rights.
"There's a very real question about this specific stipulated order of removal, especially now that the case is on appeal," said Guirguis. "We are not considering the order of removal valid."
ICE has now agreed to respect the ongoing legal process and Guirguis said she will ask ICE to grant Jimenez a work permit until a final determination is made.
Jimenez has no criminal convictions.
Until he gets a work permit, Jimenez will stay at Umstead Park UCC — likely several more weeks.
A young, mostly white congregation with a large number of LGBTQ members, Umstead Park UCC has long been committed to progressive social values. The church is not meeting for in-person services yet, but Long, the pastor, said a celebration of Jimenez's release is being planned.