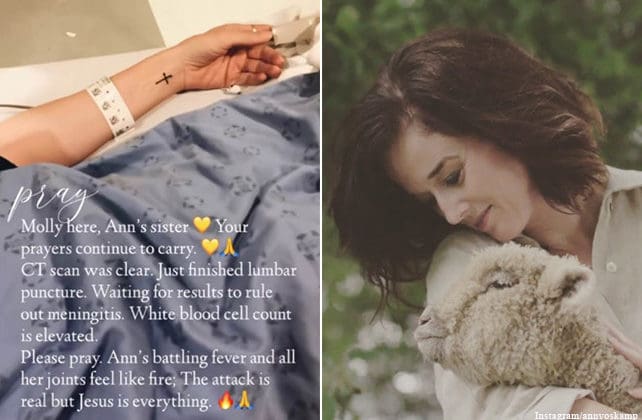 Bestselling Christian author Ann Voskamp was hospitalized this past week because of an unknown infection resulting in a fever that reached 103.1 Fahrenheit and, according to her sister Molly, wouldn't stop climbing.
Sister to Ann Voskamp Asks for Prayer
Molly posted on Voskamp's Instagram page asking her 318k followers to pray for Ann. Doctors conducted bloodwork, a cardiogram, and a COVID test. Ann Voskamp received IV antibiotics in an attempt to provide relief for full-body aches.
Wheaton College's professor and dean Ed Stetzer reposted Molly's request for prayer and said he and her Wheaton family was praying for her.
Molly later posted that the "CT scan was clear. Just finished lumbar puncture. Waiting results to rule out meningitis. White blood cell count is elevated." Molly asked for continued prayers as Voskamp continued to battle a high fever and joints that felt "like they are on fire," adding, "The attack is real, but Jesus is everything."
Molly later posted that after 12 hours in the emergency room, God "kindly broke" Ann's fever and doctors sent her home on isolated bed rest. According to Molly, doctors do not believe Voskamp's illness is anything viral, but that she instead has a bacterial infection due to her high white blood cell count. The source of the infection is still unknown. Voskamp's family is currently waiting on test results and cultures to provide more clarity.
Molly thanked all of those who prayed and praised God for kind grace on Twitter:
"Your wildly generous prayers, (Ann just loves you all & can't thank each of you enough) & God's kind grace are carrying us through a deep valley of grief & pain & heartbreak that we are trusting is for His great glory & our genuine good. We couldn't walk this dark vale without the saints upholding arms & our family deeply thanks you for loving us well through this brutal chapter in His story that will most assuredly end with a good and king last line."
The Ann Voskamp Family Suffered the Death of Her Father Recently
Ann, a mother of seven, posted on Instagram at the beginning of May 2021 that she had lost her father Bryan Morton in a farming accident when he was crushed under a farm tire. His sudden death was reminiscent of Ann and Molly's sister's Amie death when Ann was 5 years old in the same farmyard. Voskamp wrote:
"My dear Dad was killed this past week the same way our sister was—both killed under a farm tire in the same farmyard. There are stories we find ourselves living that we'd never choose, but this I know in my bones: God is the Word, & He is more than good. He is kind, & He ultimately only writes good stories. This page of the story is not good. And this chapter feels pitch dark & nauseating & we are sorta just staggering through. But this page isn't the end of the story. This chapter isn't the final chapter. And the dark doesn't write the last line. The Word does, the Light does, Love Himself does. So: we Stay in His Story, stay in The Story, stay & trust that there is only one Word that can re-story & restore all our busted hearts with His."
Join with us in praying for a Ann's full recovery and for peace for their recent loss in their family.