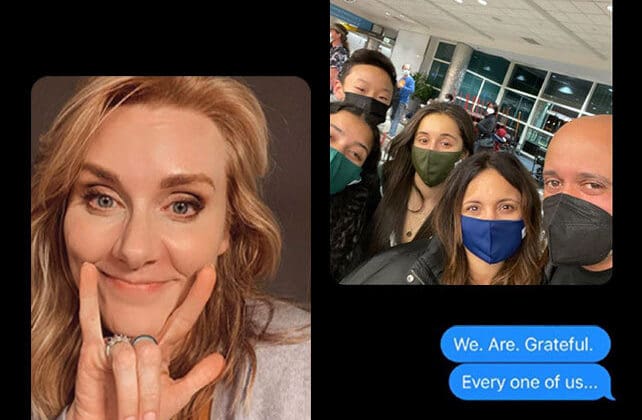 Best selling author, worship leader, and "hope dealer" as he calls himself, Carlos Whittaker posted on his Instagram page the whirlwind of events he called an attack from the enemy.
Explaining what the last week has looked like for his family, Whittaker posted a video revealing that his daughter Sohaila got in a car wreck on Wednesday, their house in Nashville flooded on Saturday, an owl attacked their chicken coup and killed the family's favorite chicken, Monday night he took his dog Pope to the vet cause he hadn't been eating all day, they rescued the owl that killed their favorite chicken, and made the hard decision to put down their dog Pope. It doesn't end there. While rushing to their gate in Atlanta to board their connection flight, his wife Heather was upended at the bottom of a long airport escalator by a hard-shell suitcase that fell out of someone's hands. She had to be rushed to the hospital because the fall broke her wrist.
"I honestly believe that the enemy is scared of us. He is intimidated of the work that [my family] is doing and we're not going to let him stop us," Whittaker said.
A few hours later after sharing the update video that has been watched over 155k times, Whittaker vulnerably told his 163k followers that he has never asked for help regarding any financial hardship…"Ever" Then he shared that his friend Sharon McMahon changed his family's life–forever.
McMahon is the woman on the popular social media accounts: Sharonsaysso. The former high school government and law teacher currently combats political misinformation on her social media channels. She has a faithful following on Instagram of 593k #Governerds as she calls them. And McMahon decided on her own to share the Whittakers' "crappy week" with a link to his Venmo account.
Whittaker said that within hours, all of their home flood bills from the Nashville floods (they have no flood insurance), his daughter's medical bills from 2019, their dog's emergency room visits and hospitalization, his wife's ambulance ride and hospitalization, and so much more financial hardships had been paid through people generously giving money to help with their needs.
Whittaker pinned a tribute to McMahon: "You showed up. @sharonsaysso is empathy and grace with skin on. She shared our story, and the combination of my Hope Dealers and her Governerds turned our tears of sorrow into tears of joy."
"I honestly don't know what to say," he said (which is a rarity for him). "While we were having one of the worst weeks of our lives…You guys had no idea you were going to infuse Hope into our lives like never before…I'm humbled."
Looking back on the series of events, Whittaker said, "We were confused. But confusion does not mean truth is still not truth." He cited 2 Corinthians 4:7-9: "This makes it clear that our great power is from God, not from ourselves. We are pressed on every side by troubles, but we are not crushed. We are perplexed, but not driven to despair. We are hunted down, but never abandoned by God. We get knocked down, but we are not destroyed."
"Our lives are completely changed," he said. All of their debt has been financially covered, Whittaker shared, "Medical debt. Student loan debt. Flood damage debt. Vehicle debt. ALL THE DEBT IS GONE? We no longer owe a penny to anyone."
Appearing with McMahon in a video on her Instagram page, Whittaker told her, "People keep asking me 'Did you win the lottery?' " His response to them is, "No, I didn't win the lottery. Strangers lifted my family up and the goodness of the planet came to rescue my family…I'm forever indebted to every single person that did that."
McMahon told Whittaker that this is just an encouraging example of how people "want to give" and they want "to make a difference for other people." She thanked Whittaker for accepting the help without asking for it and said, "Receiving is a form of generosity."
McMahon is no stranger to helping others in need. In December, she and her Governerds raised $50,000 to help others. McMahon says, "I really believe to whom much is given, much is expected. And if I've been given this platform, I would love to be able to use it to impact the world for good."