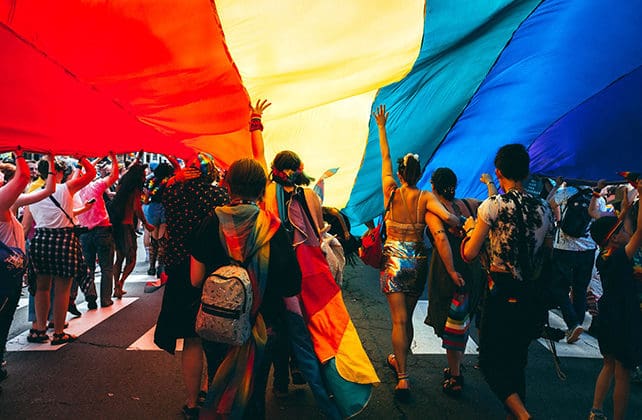 (RNS) A group of U.S. Catholic bishops has released a statement condemning the bullying of LGBTQ youth, insisting "all people of goodwill should help, support, and defend" them.
"As we see in the Gospels, Jesus Christ taught love, mercy and welcome for all people, especially for those who felt persecuted or marginalized in any way," read the statement, which was released Monday (Jan. 25) in cooperation with the Tyler Clementi Foundation, a group that works to combat the bullying of LGBTQ people.
The signers noted the Catechism of the Catholic Church — which describes  "homosexual acts" as "intrinsically disordered" — also calls for LGBTQ people to be treated with "respect, compassion and sensitivity."
"All people of goodwill should help, support, and defend LGBT youth; who attempt suicide at much higher rates than their straight counterparts; who are often homeless because of families who reject them; who are rejected, bullied and harassed; and who are the target of violent acts at alarming rates," the statement reads.
The statement was signed by six bishops currently serving in active ministry: Cardinal Joseph Tobin of the Archdiocese of Newark, New Jersey; Archbishop John Wester of the Archdiocese of Santa Fe, New Mexico; Bishop Robert McElroy of the Diocese of San Diego; Bishop Edward Weisenburger of the Diocese of Tucson, Arizona; Bishop John Stowe of the Diocese of Lexington, Kentucky; and Bishop Steven Biegler of the Archdiocese of Cheyenne, Wyoming, where Matthew Shepard was killed in 1998, in what was arguably the most famous anti-gay hate crime in American history.
A few hours after the statement was published, a representative from the Tyler Clementi Foundation confirmed that Bishop John P. Dolan, Auxiliary Bishop of San Diego, also signed on.
Two retired bishops — Bishop Thomas Gumbleton, Diocese of Detroit, and Bishop Denis Madden of the Archdiocese of Baltimore — signed the document as well.
The declaration appears to echo recent moves by Pope Francis, who has not suggested changing church teaching on sexuality but has taken what many analysts argue is a more conciliatory posture toward LGBTQ concerns than his predecessors. The pontiff famously answered a question about gay priests in 2013 by saying "Who am I to judge?," and in 2019 he met with the Rev. James Martin, an American Jesuit priest who has encountered fierce pushback from conservative Catholics for his writings and speeches calling for compassion toward LGBTQ people.
The signers of the statement, for their part, directed part of their comments directly to LGBTQ people, saying, "know that God created you, God loves you and God is on your side."